We are interested in creating a mutually beneficial relationship with companies looking for a unique advertising campaign. Each of our athletes will have 45k impressions on them for the race year 2020. Impressions can be defined as exposure opportunities of your brand through each athlete in the multisport racing and lifestyle communities.
Athletes race schedules are contained within each athlete bio sheet attached below, with athletes competing Nationally and Internationally. There are an additional 182k impressions for the day to day activity as each athlete will be wearing team hats, shirts, jackets and many other team apparel accessories.
Exposure Execution
Social media will add to the brand exposure mix as we will be using Twitter, Instagram, YouTube Channels and Facebook to maximize exposure opportunities. Included will be website (active now), race updates, race day posts, podium posts, blogging, educational/training updates as well as a team YouTube channel. Depending on your individual sponsorship level we will post and tag all brands to any and all related postings, blog and or video blogs 3 times a week.
Based on historic postings from the current team we are averaging 1000 views and 100s of likes or comments. This would add another 52k impressions annually. This essentially creates our athlete as a walking billboard for your brand. Realizing that the total number of impressions annually would be 279k. Current athlete roster is 22 athletes on the tricoachmarc Multisport/Triathlon Team. In total there are over 2.79mm impressions.
Our goal is to reach 100 athletes to the local chapter and as well, add groups across all the major Multisport hubs.
Sponsorship Engagements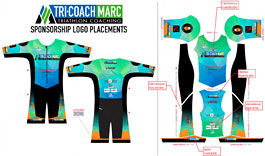 The Full Distance Sponsorship - $5000 ($1.79 cpm)
Included in this sponsorship is all the mentioned items above as well as the main staple largest font size first choice location on all team apparel items including RACEDAY Kits along with logos on athletes bike along with race team travel car and or RV. Example of logo placements are contained within the race kit layout. Product placement in all our posts, videos and team brochures or collateral.
Our Team "tricoachmarc" is a socially active, competitive Triathlon & Multisport Team guiding athletes to achieve their best performances. Our ability to compete on National & International stages is unique and maximizes our sponsors ability to become highly visible throughout the year with our team.
We are excited about the opportunity of partnering with you in the upcoming season. We are eager to seek your sponsorship which will enable us to execute the completion of our Team clothing design and layout with your logo placed and displayed prominently on our uniform.
Please contact us below directly in the event you have any questions about this opportunity.