Training and analytics platform for multisport athletes and coaches.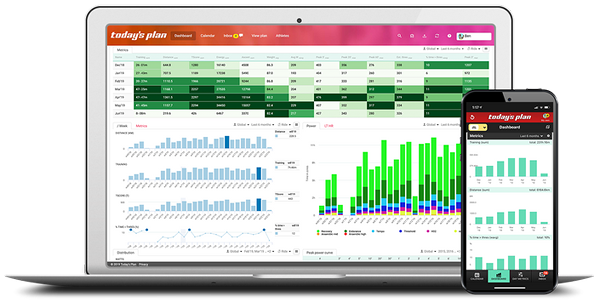 Today's Plan is a professional level athlete management platform that allows coaches and companies the organizational communication for better athlete performance and experience.
Today's Plan is used by athletes, coaches, Olympians, Tour de France professional cycling teams, coaching companies, clubs and more, to better monitor and support athletes in their performances.
---
Experience in-built communication with your coach,
smart alerts, device integration and intuitive analytic tools.
There are bunch of really great features that make this an exciting change for you. Here are just a few:
Inbox built in: Day-to-day communication, or comments on specific activity files will transform the way you communicate with your coach.
Daily subjective fatigue ratings: By adding your daily ratings, you let your coach see important 'subjective' information. You coach can be automatically notified if you enter a 'poor' rating.
Smart alerts: No more flat battery, firmware out of date or chasing bad data points in your activity files – the system takes care of these things for you and alerts you if there is an issue.
Wearables integration: Today's Plan integrates sleep & other wellness data from Fitbit, Garmin, HealthFit, HRV4Training & UnderArmour giving you and your coach a more complete picture.
New & different ways to look at your data: Today's Plan has several unique and exclusive data visualisation tools to let you understand your own performance more.
Integrated workout prescription: When your coach assigns/creates a structured workout for an athlete, you can immediately access this via your calendar or dashboards. Each workout can have rich text and media content. The sessions can be automatically emailed to you, can be accessed via our iOS/Android apps or synced into your choice of online calendar. Your coach made workouts can be synced to your Garmin device, Lezyne Super GPS, Stages Dash, Wahoo ELEMNT or completed in Zwift. You can even rate the quality of your coaches sessions!
Integrated availability: Manage your daily availability – including holidays, medical and other reasons for changes in your schedule. Your coach will see this when he/she allocates your training sessions – no more 6 hour rides or 2 hour runs scheduled when you only have an hour free!
Reports: Your coach can use our integrated reporting system. Your coach will be reminded that your weekly/monthly/other report is due and this is delivered via our communications framework. It's a great way to maintain regular feedback from your coach, and have it in an easy to find and search location.
---
Works with your favourite devices
Sync
You can sync your upcoming training sessions and completed activities from your Garmin devices, Stages Dash, Zwift, Lezyne Super GPS, Wahoo ELEMNT or Android device.
Collaborate
We collaborate with device manufacturers so that our 'Smart Alerts' lets you know if your device needs attention, such as a battery replacement or power meter calibration.
Compatible
Our Software has been designed to work with the world's most popular activity tracking devices and computer platforms, including tablets and smartphones.