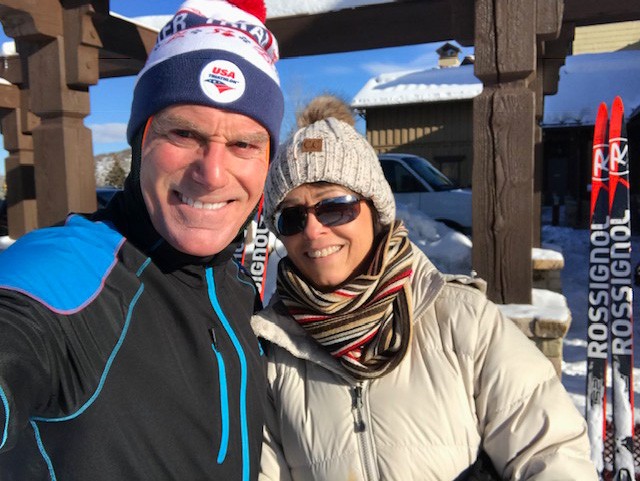 We searched and researched thoroughly, winter clothing, snow cross running shoes, beanies, leggings, wind proof base layers, gloves that provided warmth and dexterity etc. Next, we then had to find a location where we could take a cross country ski lessons and rent some fat tire mountain bikes. Our local southern California mountains had not received enough snow for that to be a training location. Salt Lake City, UT seemed the likely option. We were able to secure ski lessons at Solitude Nordic Center in Big Cottonwood Canyon. Day one was going to be cross country lessons and day two would be a mock triathlon. So, the travel plans were made and off we went.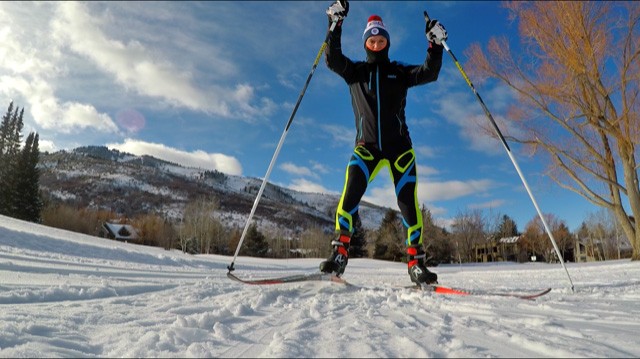 On Friday morning January 12th day one, we received our fitting, gathered our gear for the group lesson and headed out back to the ski park. The ski park is basically a flat course with lots of turns, this was really going to challenge me no doubt! A Nordic ski set up, is a toe mounted binding and very narrow skis and long polls. Cross country skiing is just as much arms and upper body as it is legs, so being a strong swimmer and still in fairly good shape I felt ready to proceed. The basics of forward progress and maintaining momentum were explained to us by our instructor. Mastering the timing and coordination of the movements were about as foreign to me as learning to line dance. There were lots of embarrassing moments for me falling down and trying to get back up looking like a one-legged flamingo in the process. The lesson lasted one hour then we were on our own, we spent roughly 4 hours that day getting comfortable with balance, timing and coordination.
On day two January 13th, we drove about an hour from Salt Lake City to Park City. We were able to locate a place to rent the fat tire mountain bikes, cross country skis and it provided a venue for us to ski and complete our practice triathlon. We proceeded to gear up and prepare for our adventure at 7000' feet of elevation in 27 degree weather. We found a trail adjacent to the bike rental shop that provided us with a great place to run and ride our bikes. We stepped out and did a 5K run, some ice made this run a little dicey at times, but we prevailed. That experience took about 30 minutes. Then it was time to mount our bikes for a challenging ride on some single track bike trails. Riding in the snow presents it's own set of challenges, varied terrain, different snow depths and surfaces. We spent roughly 2 hours finding our way around the mountain enjoying the views and challenges that were presented to us on the bike. We were a bit anxious with this ride not really knowing how these bikes would handle in snow and ice out on the trails. Mission accomplished, and it was now time to rent our skis and complete the triathlon. But by this we had burned some calories and were in need of some food. We belled up to a local pub for a nice blackened salmon sandwich for lunch, hydration and some needed rest.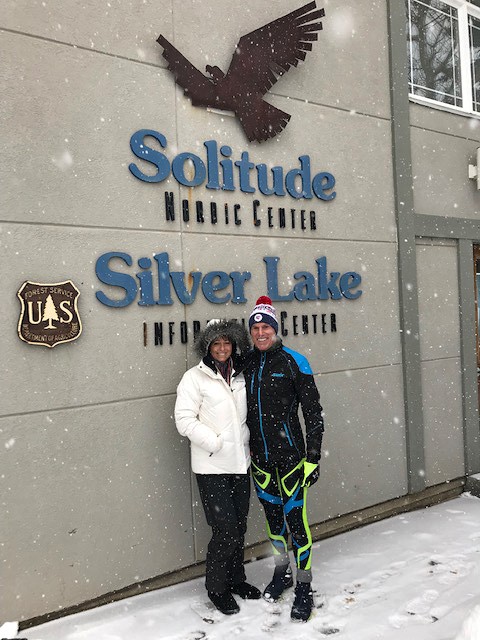 After lunch we proceeded to White Pine Touring Nordic Center in Park City to rent our skis and complete leg number three of our triathlon. The Nordic ski course was set up on a location that is a golf course in the summer. It had some twists, turns and hills that presented some new challenges, trying to turn on skis with no edges. We covered a distance of 3.26 Kilometers in 45 minutes, elapsed time of 1:05:40 not bad for a couple amateurs! We felt proud, tired and accomplished all at the same time. Beginner level preparation for accomplished Age Group Triathletes, but it's the best we could do, so we are now ready for The National Age Group Winter Triathlon Championships in Minnesota. I was encouraged at this point that I would be able to share this experience with my fellow USA Triathlon Ambassadors, family, friends with the adventure it rewarded me with.