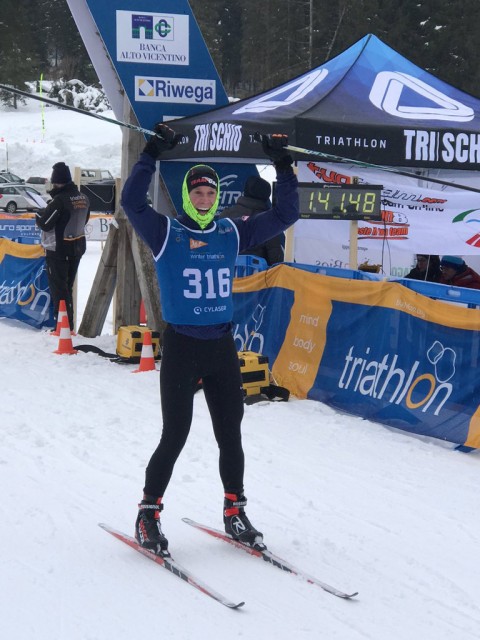 A triathlon journey, adventure & destination with two of my favorite people. My rock in life, Marcie Moné and training partner Kevin Triathlete Elmore. As for most triathlon events the preparation is fairly repetitive, swim, bike, run, strength training, eat, sleep and repeat. The Winter Triathlon, World Championships Asiago Winter Triathlon World Championships 2019 however was unique, training & preparation was different in so many ways. Winter triathlon encompasses a sport, cross country skiing that requires as much technique or more than swimming. Fortunately with cross country skiing if you stop you don't drown. I found the skiing to be very challenging for me to learn in the few training sessions I was able to accomplish before the race. On a flat course it was tough, the course in Italy was very hilly which made it brutal in every sense of the word. The uphills were punishing because I didn't really learn how to climb. Using every upper body muscle I had to climb the 500' of elevation gain that the course delivered in roughly 4 miles was exhausting. The down hills were terrifying because I had limited control and steerage on the descents. I was just as afraid of taking out another athlete as I was for my own safety. I have a new found respect for the fear of of the unknown. I can now more closely relate to someone thinking about how they will get out through the surf and back in safely to T1 in an open water swim of a typical triathlon.
The winter triathlon event itself is a combination of and in this order, run, mountain bike & cross country skiing. Preparation is unique because lots of new gear is required, warm clothing which adds weight and reduces mobility. Different running shoes, something waterproof and with a tread that will provide stability and traction on snow and ice up hills and down. Of course skis, boots & polls. Questions come to mind shall I wear gloves to change into my ski boots or keep them on and try to keep my hands from freezing, what beanie shall I wear the thin one I used under my helmet on the bike or something different to ski with, oy vey!
Transition is set up very specifically in a World Championship race, failure to do so is either a time penalty or disqualification. After transition was set up all men were lead single file numerically by bib number to the start line and then sent off like a herd of wild buffalo.
Now out on the run course there was really no turning back and the finish line needed to be crossed! So 31° and snowing was the current situation we were in, up and down the hills for 2 laps, with a quick call to nature. The footing on the run was rough at best kinda like a bad hair transplant, plugs everywhere! I entered T1 trying to get my heart rate back under control and start the mountain bike portion because about 100 yards out from transition was the steepest climb on the bike course. With the course being 2 laps it was fairly congested, narrow and navigation was of paramount importance and I didn't want to have to dismount on the course. The climb on the loop portion of the course we did twice, was just over a 1/4 mile long at an 8% grade, it was a leg burner. Safely returning to T2 it was time to transition into my waiting frozen ski boots and man up for the ski portion of the triathlon, this would challenge me to a limit I've rarely been to in the past. The first loop of the ski course would be challenging in the sense that there were still so many athletes still on the course. I feared for their safety as I entered the track, stand clear California is here! My beginner skill set made climbing difficult because I lacked that specific skill and the descents frighting for the same reason. After completing the first loop I was confident that I would cross the finish line in some shape or form. On the second loop I had to switch my technique on the climbs from my awkward V1 technique to double polling up the hills. This was basically all upper body and was everything I had to get to the top of every climb, then recover at the top. For every climb was a harrowing decent where I kinda had to just say "ok lets do this" and the outcome would be the out come. I think I went down about 4 times and believe I had more snow on me that anyone on the course that day! Crossing that finish line was a great feeling of accomplishment.
As always I was proud to be a representative of USAT TeamUSA representing America with 7 other teammates from the US. We made friends from all points on the globe and the Italian hospitality was over the top. We will have memories to share forever about out Winter Triathlon experience in Asiago, Veneto, Italy. Thanks to the European Triathlon Union's support of the Winter Triathlon, USA Triathlon and the countless volunteers that made this all possible. Including our sponsors and partners Challenged Athletes Foundation Cádomotus: The Speed of Intelligent Motion, SBR Sports, Inc., Team F2C Nutrition, Mdrive, Unify, Smart Home, Safetti USA, On The Spot Media, Converze Media